HumanOptics TORICADIFF is a one-piece capsular bag lens for presbyopia correction for cataract patients with astigmatism. Based on the highly functional optical design of the DIFFRACTIVA®, the multifocal IOL (mIOL) offers a natural visual impression for all distances with finely balanced light distribution. Combined with the meridional aspheric torus the TORICADIFF achieves excellent refractive results for effective and stable astigmatism correction.
TORICADIFF combines the advantages of DIFFRACTIVA® and TORICA®:
Excellent vision at all distances
High patient satisfaction*
Proven high rotational stability*
* Clinical evaluation of the toric multifocal intraocular lens TORICADIFF-aA. Data on file, HumanOptics AG 2016.
High-precision manufacturing technology (Sub-nano resolution technology) enables the exact manufacturing of the diffractive structure and the aspheric torus with an accuracy within the nanometer range. The result of this cutting-edge technology is an optic surface of premium quality for brilliant, clear, and sharp images.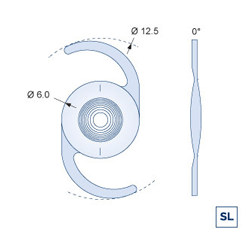 Toric multifocal TORICADIFF-aA
Toric multifocal TORICADIFF-aAY YELLOW
Type
Toric multifocal
posterior chamber IOL, 1-piece, foldable, optional blue light protection
Optic diameter
6.0 mm
Total diameter
12.5 mm
Material
Hydrophilic, glistening-free acrylic, UV absorber
Optic features
Central diffractive anterior surface with a refractive optic periphery, toric meridional aspheric posterior surface, aberration-free,
360° LEC barrier, HD optic
Near addition +3.5 D (at IOL Plane)
Haptic design
C-loop
Estimated A-constant
(optical biometry)
118.4
XL diopter range
sph: 10.0 to 30.0 D in 0.5 D steps
cyl: 1.0 to 6.0 D in 0.5 D steps
Also preloaded in SAFELOADER®
The toric multifocal premium IOL for optimal presbyopic astigmatism correction
For spectacle independence with astigmatism: with its multifocal and toric design, the TORICADIFF combines several principles for optimal patient care.
The diffractive-refractive optic design achieves excellent refractive visual results. The light distribution is optimally aligned to the everyday needs of the patient.
The diffractive element is focused on the central zone of the lens, thus reducing glare phenomena to a minimum. Under mesopic conditions, the patient benefits from excellent distance vision, comparable to monofocal IOLs.
DOLA technology (diffractive optic, local asphericity) generates an optimized visual acuity in the intermediate region with reduced photic phenomena.
With a near addition of 3.5 D, TORICADIFF provides comfortable near vision and meets all visual requirements at the physiological working distance.
By combining different technologies, TORICADIFF patients benefit from optimal imaging conditions at all distances, adjusted to their everyday needs.
The meridional aspheric optic design optimizes the toric posterior surface of the TORICADIFF so that both meridians are aberration-free. The patient benefits from better contrast, which is crucial for optimal visual quality, especially with multifocal IOLs. The rotational stability of the TORICADIFF ensures precise astigmatism correction with maximum image quality.