The ASPIRA-aA/-aAY is a one-piece monofocal capsular bag lens with all the advantages of a premium IOL:
Aspheric, aberration-free optic design for improved contrast sensitivity
XL delivery range
MICS - for astigmatism-neutral implantations
Preloaded SAFELOADER®
Optionally with blue light protection
Monofocal 1P ASPIRA-aA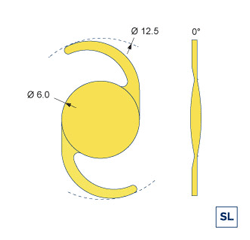 Monofocal 1P ASPIRA-aAY YELLOW
Type
Monofocal 
posterior chamber IOL, 1-piece, foldable, optional blue light protection
Optic diameter
6.0 mm
Total diameter
12.5 mm
Material
Hydrophilic, glistening-free acrylic, UV absorber
Optic features
Aspheric anterior surface, aberration-free, 360° LEC barrier,
HD optic (within the standard diopter range)
Haptic design
C-loop
Estimated A-constant
(optical biometry)
118.4
XL diopter range
-20.0 to 60.0 D in 1.0 D steps
10.0 to 30.0 D in 0.5 D steps
Also preloaded in SAFELOADER®: diopter range may differ
Also available as
MC 6125 AS/MC 6125 AS-Y
Comparable model also available with spherical optic: AS/MC 5812 AS
Aberration-free – suitable for all patients
Spherical aberration (SA) is a higher-order imaging error that can affect the contrast vision of patients after IOL implantation. Aberration-correcting IOLs are based on average values of corneal SA measurements. However, these IOLs can only partially compensate or even amplify the patient specific SA, since it varies greatly within individuals.
The aberration-free optic of the ASPIRA-aA/-aAY offers the basis for excellent imaging quality. The aspheric optic design is aberration-neutral, so that no additional imaging error is introduced into the eye. It is suitable for all patients, regardless of corneal aberration. Compared with spherical or aberration-correcting IOLs, patients benefit from increased contrast sensitivity and depth of field.
XL diopter range
The ASPIRA-aA/-aAY is available in an exceptionally wide delivery range beyond standard values commonly available on the market. IOLs with a sphere of -20.0 to 60.0 D provide optimal treatment, even for patients with extreme visual defects.