Precivia®, from FCI, simplifies intravitreal injections by making the procedure faster and more predictable. Its unique design presents a guide tube accurately oriented to ensure a fixed injection angle of 28°, a fixed distance at 3.5 mm from the limbus, and a fixed 5.60 mm depth.
Precivia® ensures a safer injection procedure that eliminates the need of speculum, caliper or pressure plate.
After preparing the patient for the procedure, Precivia® is carefully placed on the patient's eye with the positioning line on the limbus. By gently pushing down and rotating the Precivia® device, the eye is stabilized so the patient feels an anesthetic effect due to the pressure, and cannot see the needle coming. After removing the needle, a rotation post-injection replaces the conjunctiva and seals the injection hole.
Main characteristics:
Eliminates unnecessary instruments
Assures accuracy
Relaxes patients
Prevents leakage
Compatible with popular anti-VEGF drugs
Sterile, Single use
Box of 25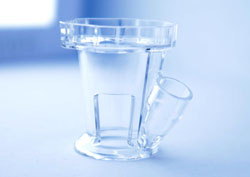 | | |
| --- | --- |
| Precivia® for Lucentis®¹ & Eylea®² (box of 25) | S5.200.P |
| Precivia® for Avastin®¹* (box of 25) | S5.200.I |
¹Registered trade mark of Genentech Inc. ²Registred trade mark of Bayer AG.*Please verify the medical use of Avastin® with your local authorities.