Ophtacath®
FCI Ophtacath® is a lacrimal duct balloon catheter kit indicated for the dilation of an obstructed nasolacrimal duct.
It consists of a semi-flexible stainless stylet covered by a tubing and finished by a Nylon Polyn® balloon.
The balloon catheter works with a disposable inflation system to dilate the obstructed nasolacrimal duct, which is a most efficient solution to treat rapidly and durably the symptoms of epiphora.
OphtaCath® is available in 2 sizes and its inflation system can work in unilateral or bilateral positions thanks to a 4-way stopcock.
It is recommended to use:
2mm balloon diameter / 13mm length for patients under 30 months
3mm balloon diameter / 15mm length for patients over 30 months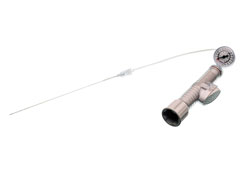 OphtaCath® 2mm Unilateral Kit
1 x 2mm balloon catheter & inflation device
S1.4121
OphtaCath® 2mm Bilateral Kit
2 x 2mm balloon catheter, inflation device & 4-way stopcock
S1.4122
OphtaCath® 3mm Unilateral Kit
1 x 3mm balloon catheter & inflation device
S1.4131
OphtaCath® 3mm Bilateral Kit
2 x 3mm balloon catheter, inflation device & 4-way stopcock
S1.4132