DIOPSYS provides unique platforms for their advanced suite of visual electrophysiology modules. The Diopsys® NOVA™ (cart) and Diopsys® ARGOS™ (tabletop) ERG and VEP Vision Testing Systems allow to perform multiple visual electrophysiology tests in a clinical practice.
Diopsys® ffERG (full field electroretinography)
Fixed Luminance Flicker
Multi-Luminance Flicker
Diopsys® mfERG (multifocal electroretinography)
19- and 61-Hexagonal Pattern Stimuli
Diopsys® ERG (pattern electroretinography)
Contrast Sensitivity
Concentric Stimulus Fields
Diopsys® VEP (visual evoked potential)
Multi-Contrast (LX)
User-Defined: Customizable Protocols
Diopsys® NOVA™ (cart) and 
Diopsys® ARGOS™ (tabletop)
More Information
Objective measurement of retinal function.
Results help track changes in retinal function, even in the presence of media opacities. 1,2
Reports and documents the results of treatment and disease progression for enhanced patient amangement.
No verbal response or "button pushing" by patients.
Better management of cataract patients with retinopathies.
Results help measure the effect of retinopathies on vision through the presence of dense opacities. 1,2
Data helps eye care providers better manage patient expectations for IOL procedures.
Documents the results of practitioner intervention for enhanced disease management.
Ratanapakorn, T, et al. Effect of cataract on electroretinographic response. J Med Assoc Thai. 2010 Oct;93(10):1196-9.
Visual Electrodiagnostics: A Guide To Procedures. International Society for Clinical Electrophysiology of Vision (ISCEV Publications) Web. 17 Jan. 2017.
Multifocal ERG has been recognized as an effective test in helping doctors to diagnose and manage diseases affecting the retina, most notably retinal toxicities.1-3 This visual electrophysiology technique is a test of localized retinal function through quasi-simultaneous stimulation of different areas of the retina.4 The American Academy of Ophthalmology (AAO) recommends the use of multifocal electroretinography for chloroquine (CQ) and hydroxychloroquine (HCQ) retinopathy screening.3
Dettoraki M, Moschos MM. The Role of Multifocal Electroretinography in the Assessment of Drug-Induced Retinopathy: A Review of the Literature. Ophthalmic Res 2016;56:169–177
Talamini CL, et al. Abnormal multifocal ERG findings in patients with normal-appearing retinal anatomy. Doc Ophthalmol 2011;123(3):187-192.
Marmor, M, et al. Recommendations on Screening for Chloroquine and Hydroxychloroquine Retinopathy (2016 Revision). Ophthalmology 2016;123:6:1386-1394
Hood, DC, et al. ISCEV Standard for clinical multifocal electroretinography (2011 edition). Doc Ophthalmol 124:1–13.
ERG provides objective, functional information about the performance of the inner retinal cells of the eye. ERG has been recognised as an effective test in helping doctors to diagnose and manage disease including, Glaucoma, Age-Related Macular Degeneration (AMD), and Diabetic Edema, among others.1-3
Banitt MR, et al. Progressive Loss of Retinal Ganglion Cell Function Precedes Structural Loss by Several Years in Glaucoma Suspects. Invest. Ophthalmol. Vis. Sci. 2013;54(3):2346-2352. (From the Bascom Palmer Eye Institute, supported by Grant National Institutes Health–National Eye Institute (NIH-NEI), NIH Center Grant, and Research to Prevent Blindness)
Oner et al. Pattern electroretinographic results after photodynamic therapy alone and photodynamic therapy in combination with intravitreal bevacizumab for choroidal neovascularization in age-related macular degeneration. Doc Ophthalmol. 2009 Aug;119(1):37-42. doi: 10.1007/s10633-009-9167-8.
Ozkiris A. Pattern electroretinogram changes after intravitreal bevacizumab injection for diabetic macular edema. Doc Ophthalmol 2010;120:243-50
Since VEP testing provides important diagnostic information regarding the functional integrity of the entire visual system, it has been found to be useful for the detection and monitoring of many types of visual abnormalities.2 It is often used to help doctors diagnose and manage neuro-visual disorders such as optic neuritis, amblyopia, and vision problems due to TBI.1-3
Naismith et al. Optical coherence tomography Is less sensitive than visual evoked potentials in optic neuritis. Neurology. 2009 Jul 7;73(1):46-52.
Simon J, Siegfried J, Mills M, Calhoun J, Gurland J. A New Visual Evoked Potential System for Vision Screening in Infants and Young Children. Journal of AAPOS. 8.6 (2004): 549-554.
McKerral et al. Visual and Cognitive Information Processing after Traumatic Brain Injury: VEP and ERP Studies. Invest Ophthalmol Vis Sci 2002;43: E-Abstract 1803.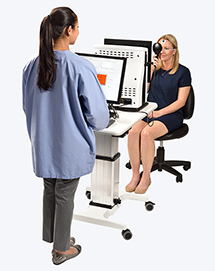 Technician running a Diopsys® ffERG Vision Test using the Diopsys® ARGOS™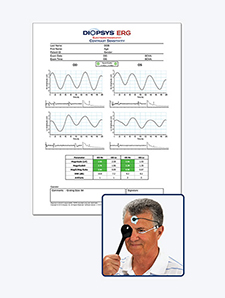 Diopsys® ERG / Contrast Sensitivity Test Result
Patient in front of a Diopsys® NOVA™ system during a Diopsys® VEP vision test.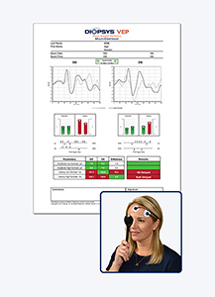 Diopsys® VEP / Multi-Contrast Test Result